The brainchild of Pitti brothers (Nishant Pitti & Rikant Pitti), Easy Trip Planners Pvt. Ltd (EaseMyTrip.com) is one of the leading online travel companies of India. The Pittis established the company in year 2008 in New Delhi with a very small team of 4 members. At present, EaseMyTrip.com has a qualified team of 500 well-trained staffs at its main head office in Patparganj Industrial Area. Also, has an efficient network of 50,000 travel agents, 1200 Franchise Outlets, 1800 Corporate, 140 Distributors, and 640 Whitelabel solutions to reach out to the customers in tier II-III cities. With the clear vision of its founders, the company has become one of the largest retailing networks of travel industry with its B2B and B2C affiliated services. It specializes in Air-Tickets (Domestic & International), Hotel Bookings & Holiday Packages (Group Tours/ Customized packages), medical tourism (Health Packages, Medical Treatment Packages), and Corporate Travel & Car rentals.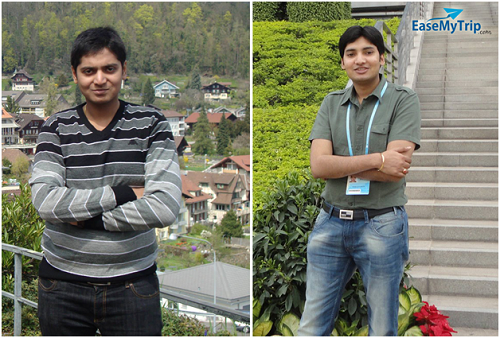 1. You started off EMT in 2008. How has the journey been so far? What is your key learning in this journey?

Our business journey has been absolutely rewarding as we are growing continuously with the time. We started the business in 2008 and the turnover of the company in latest financial year was Rs. 1300 crores. At present, we are one of the topmost travel companies of India with a network of 50,000 travel agents, 1200 Franchise Outlets, 1800 Corporate, 140 Distributors, and 640 Whitelabel solutions. A journey that started to save on our own travel cost has taken the shape of a multi-billion empire.

During establishment of EaseMyTrip, we were quite young. Founding and running a travel company was a herculean task as many established players were already there in the market. Our journey has made us learn that organization is the key of every business setup but there is no back-up plan for a crisis. You should be ready to accept the challenge of fate and fight against this is definitely going to let you lead this journey.

We remember that after few months of the setting up of our website EaseMyTrip.com, we have faced a measure technical issue that has almost brought us into tears. Issue was solved soon but we were not prepared with any plan. Some days of this journey were unbeatable and some days days were completely fragile. However, we learnt to maintain a consistent advancement in our work in order to achieve success.

2. Online travel is an extremely crowded space with multiple players having their own niches. How does EMT stand apart?

It is true that online travel business in India at boom and many travel players are coming up with their exclusivity and have created a place for themselves. EaseMyTrip stands apart as it doesn't believe in selling travel products/solutions to its customers but tries to create incredible memories for them. As a reliable name in travel industry of India, we salute the spirit of vacation and make every journey full of interesting experiences. Our travel experts constantly research to deliver better services every time. Being accountable for our customers and their trips, we encourage them to interact with our efficient travel executives and give them enough time to plan best about their holiday trips. We fully support our customers if they are willing to edit, reorganize or recreate their tour package. It is true that there are multiple players in travel industry with same products but EaseMyTrip makes a distinct place by generating a lot of information for the travelers and offering them unique holidays.

3. Tell us more about the franchising program of EMT. How different is it from other programs many travel portals run?

Franchise program of EaseMyTrip helps the people in getting a share in the thriving Indian travel industry from an acknowledged industry leader. EaseMyTrip.com offers competitive travel solutions with state-of-the-art technology and complete professional support by an experienced team to its franchise partners. We give complete training to our clients about latest tools and technology. They can connect top travel suppliers resources by associating with us as business partners. EaseMyTrip also offers credit facility to the franchise in order to simplify their transaction. We help them in marketing through mailers, blogs, print media, brochures and more.

4. OTA market is about 61% of overall e-commerce market. Where do you see this share going given the onslaught of e-commerce players in the consumables space?

Entrance of e-commerce business has brought a revolution in buying behavior of customers along with a great relief for them. The same revolution has also come in travel sector due to emergence of online travel agencies. Online travel market contributes a huge share in overall e-commerce market of the country and the share is growing with the time. Earlier used to be a luxury, travel has become a need for everyone in today's life. After living a hectic life, people often love to explore places with their loved ones in order to get a break and relaxation. Online travel companies help them in comparing the best packages and deals as per their budget and requirements. As far as the share of OTA market in e-commerce sector is concerned, we can't make any statement about it as both the sectors are growing. E-commerce players in the consumable space are also seeing a boom and online travel business is also flourishing rapidly. So, whatever may be the share, continue growth is certain in both the fields.

5. How do you foster innovation in the travel space? How does EMT help travelers in discovering experiences?

The global hospitality industry is driving innovation in travel space now. Online booking of travel has become normal and every aspect of hospitality is being questioned and retooled. We, as a leading travel company of India, also encourage innovation and help our customers in creating beautiful memories. We work earnestly in bulking up our social marketing and customer service channels in order to make us more accessible and more reliable. As consumers have become self-serve and mobile-dependent, our apps and mobile websites are fast and try to serve the increasing demands of consumers. EaseMyTrip uses new tools to keep track of the huge data to analyze past performance and predict future travel trends. Our travel booking technology is very innovative that helps the customers in using better and enhanced ways to filter through their choices. We also inquire our clients on personal level about their travel needs in order to enhance their experiences. EaseMyTrip gives them opportunity to make any kind of changes that they want and also assists them discovering more travel opportunities as per their taste.

6. What's your take on medical tourism? How well prepared is EMT to cater to this segment?

Medical Tourism in India offers best in healthcare to the world. With advantages of vacationing and sightseeing, travelers take full benefits of medical facilities at different healthcare centers and hospitals. Medical tourism is one of the rapidly growing aspects of travel industry of India as it has high-class chains of hospitals, state-of-the-art medical facilities & infrastructure along with number of experienced medical professionals. EaseMyTrip has its inbound team that also deals in medical tourism. We had some clients last year who came here for medical tourism.



7. Any concluding comments?

EaseMyTrip has been a beautiful journey for us and we are really happy by creating memorable journeys for our customers. We are targeting to expand our business in Tier - 2 and Tier - 3 cities of India by opening its franchises. This will make us reach more number of customers easily.
About the author:
Salar Mohamed Bijili
Contributing editor
TradeBriefs